'SETE' AT NO.1 ON AIRPLAY CHART FOR 3 MONTHS CONSECUTIVLEY.
K.O BECOMES FIRST SA ARTIST TO REACH 10 MILLION STREAMS ON A SINGLE IN 2MONTHS.
'SETE' VISUALS HIT OVER 15 MILLION IN 2 MONTHS.
KEEP LISTENING AND WATCHING  TO 'SETE' HERE.
K.O's 'SETE' is the biggest record-breaking track in South Africa! Today, 'SETE' has broken the Radiomonitor record by being the first a song (local or international) occupying the number 1 spot for 12 consecutive weeks since the airplay monitoring company's inception in 2015. The momentous success of 'SETE' saw the single dominate official charts, radio airwaves and playlists, gaining over 4000 plays on 88 radio stations across South Africa with more than 400 million impressions.
Milestones for 'SETE' thus far.
'SETE' Awarded 10 million streams plaque by official SA charts and Risa. K.O is the first South African artist to reach 10 million streams with a single at a record breaking 2 months. Risa and the official SA Chart marked this huge millstone with a plaque.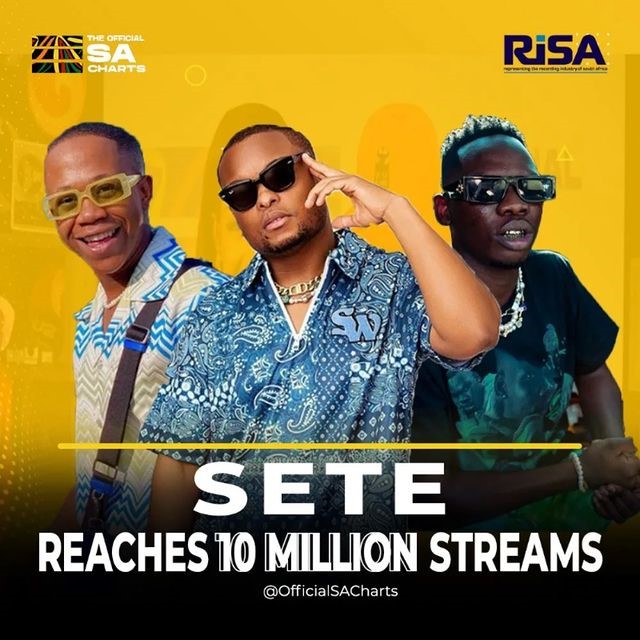 Speaking about the event RISA spokesperson Lesley Mofokeng explained
"It is phenomenal achievement and for the industry as well. We are very proud of him as RISA and SA Charts. We are here to mark this moment and celebrate with him, we are delighted that he could join us and receive his flowers."
K.O expressed his excitement by sharing;
"Yezuur, thank you so much to the Sony Team and of course my team. Thank you to Stunna, Blxckie and all the contributors, today is a monumental day, receiving a plaque for 10 million streams was something I didn't forsee coming.
I also want to share a message an encouraging message to the upcoming artist out there , don't ever give up on yourself, keep doing what you love and put God first. Bless!"
This week K.O retains the number 1 spot of SA official streaming chart as number 1 on official South African official chart.
All time -Streams.
South African stream surpassed over 10 million and 14 Million worldwide streams.
The track has a daily average over 66000 streams.
The music video has amassed over 15 million views in 2 months.