AKA calls out Cassper Nyovest to the boxing ring in other to squash their long time beef.
Supa Mega rants in series of tweets on how Cass' failure to sign the contract with EFC has stopped them from meeting in the boxing ring. "The truth is … the reason the guy has stepped up his social@media assault on me is because we are negotiating a contract with EFC for us to have a boxing match in Sep. there. You heard it first from me," AKA tweeted.

He further shared a private message sent to Mufasa to sign the deal.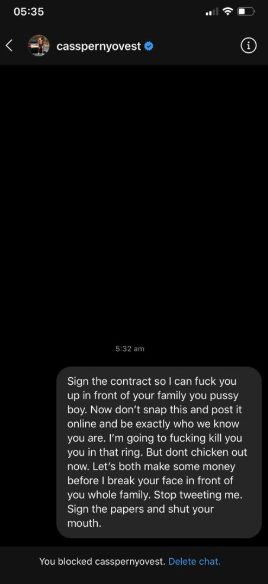 However, just to get Cassper to sign the contract, AKA taunts him alongside his family.

Meanwhile, the beef between the two rappers might last longer than we think, because, AKA got no plans to end it.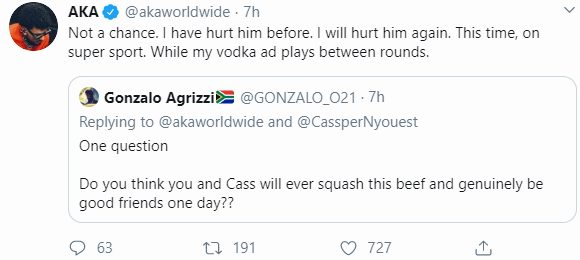 Tag short pan. Let him know his management don't care about him letting him do this fight. pic.twitter.com/oypXNjgl5U

— AKA (@akaworldwide) March 19, 2020
He's way shorter than me. His reach is a joke to compared to mine. He's so stubby. And his mouth is so big … that's my favorite part ? https://t.co/EXawTIwljX

— AKA (@akaworldwide) March 19, 2020
Fuck his mother and his father. @CassperNyovest … sign the papers. https://t.co/09roWVWUEv

— AKA (@akaworldwide) March 19, 2020
Eat shit. I'm going to obliterate his face. If you not down with that then fuck you. To listen to someone else. I don't want you as a fan anyways you corny nigga. https://t.co/vrQGwdmVET

— AKA (@akaworldwide) March 19, 2020
All of the taunt made against Cassper, AKA calls it a pay back.
"It's all fun and games and laughs when he's taunting me …. but when I come back … it's a problem. I'll say it again. His Ma se POES."
It's all fun and games and laughs when he's taunting me …. but when I come back … it's a problem. I'll say it again. His Ma se POES. @casspernyovest https://t.co/5wV1CyZHTX

— AKA (@akaworldwide) March 19, 2020